As the industry leader, Boosted builds fast, fun, simple transportation for everyone. We take pride in creating vehicles that people can rely on for their daily needs and for a good time. We designed two all-new models for the 2018 line to deliver an even better experiences to our riders. We undertook the task of bringing nearly every component of these boards in house; every part is now custom-designed by our team to be the best of the best for thousands of miles to come.
DESIGN PROCESS
These products are the most rewarding I've ever worked on. Boosted's ID team consists of myself and Jukka Rautiainien. As a small team, we work hand in hand with our Mechanical Engineering team to tightly integrate form with function. We seek to make each component as user-friendly, honest, durable, and beautiful as possible. It's a blast because we're all just trying to make the best products we can. It's insanely fun, but we take it seriously. Here's a look into some of our design process.
INSPIRATION
Through focus groups, customer service feedback, and various social media platforms, we strive to have a tight connection with our riders and create products and features that they'll love. College students are one of our favorite groups of riders to observe and work with because of their constant need to balance their time and resources. Our boards aren't exactly cheap to buy (or to produce), so for students in particular, purchasing a Boosted product is considered a major investment. We've heard countless stories of how the smaller and more affordable Boosted Mini has changed the way people experience their campus and city. Many have swapped it for their cars, trading boring commutes for a bit of magic.
The deck defines the use of our product; its profile and form communicating its intended use. Riders should be able to feel where they are on the deck, be able to get a comfortable stance, and receive constant feedback on what's happening under their feet. We partnered with a top-tier snowboard and ski manufacturer to innovate new methods to the skate industry – delivering the most advanced, lightweight, durable, and enjoyable decks around.
The Boosted Plus and Stealth are two new takes on our classic longboard with refinements in all the right places. Longboards are perfect for flowy carving, longer commutes, and going fast. The new decks sport a wider profile for increased stability and maneuverability, advanced construction for improved vibration dampening, and a fine-tuned flex for pop.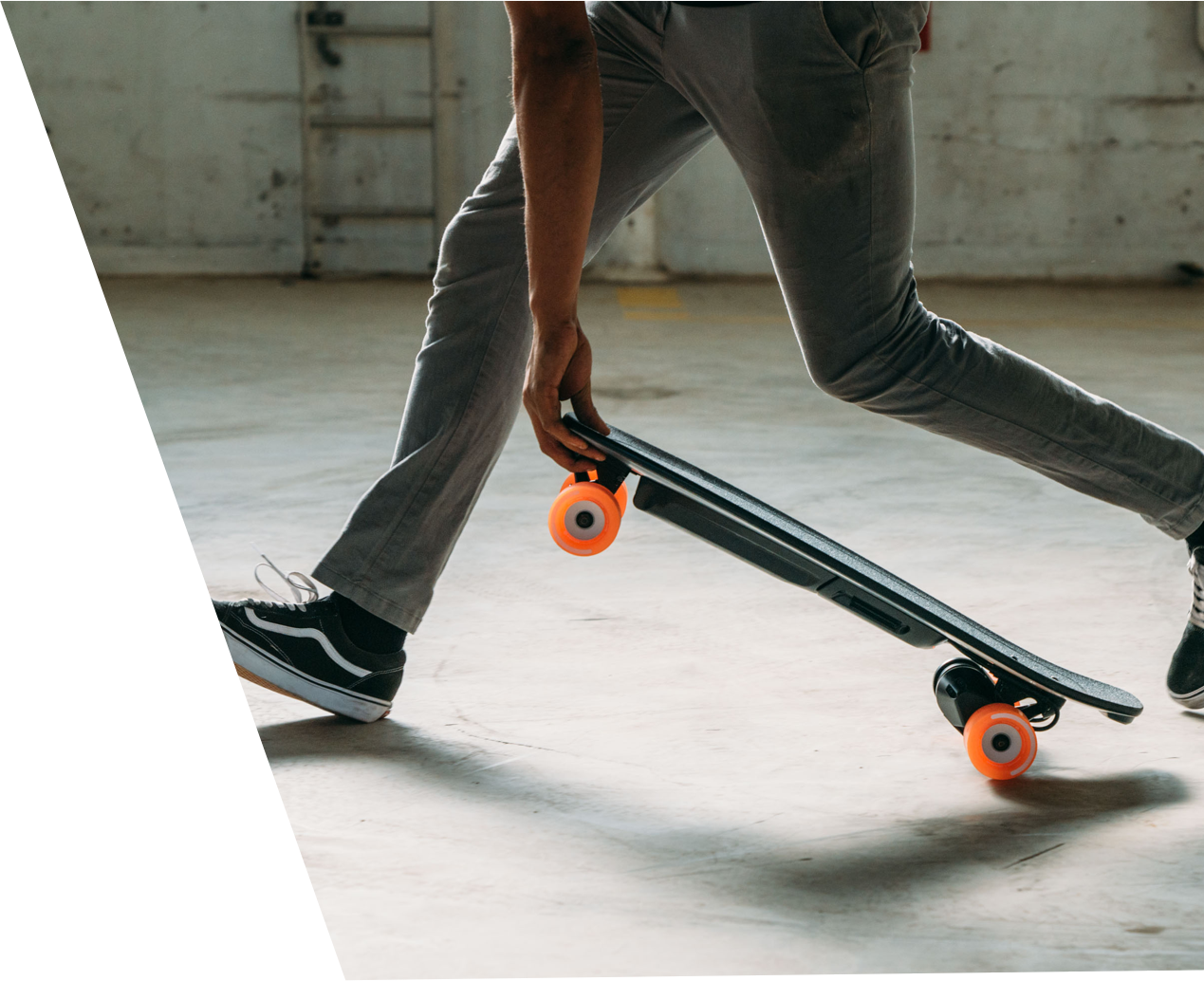 Perfect for shorter commutes, cruising campus, and portability, the Boosted Minis are everything you need in a small electric skateboard. The unique Deep Dish concave shape secures your feet in position so you can lean in hard and push for superior control and response. The kicktail design lets you make sharp 90 degree turns and pivot for ultimate maneuverability.
This is where polyurethane meets the road. We developed our new Lunar wheels with countless hours of professional rider testing and engineering validation to be sure they're just right. A wide contact and dished outer profile provide smoother transitions on rough pavement at high speeds. Our custom PU formula is insanely grippy, yet predictable for slides. Ask anybody in the industry – developing wheels from scratch is no small feat, and we're proud to put our stamp of approval on these.
TRUCKS
Our boards are expected to last for thousands of miles under the harshest conditions. Our new forged trucks provide the strength needed for such high demands. During forging, the aluminum's grain structure is compressed and molded into shape providing greater strength with less material. Seeing this process in action is truly mesmerizing.
PROCESS
I didn't personally work on our new truck design, but I was able to be part of the process and to tour the factory where they are produced. I just have to share because of how mesmerizing it is. Click then hover over the photos below to see details.
Read more about the tech in these boards on Boosted's site here.
Images courtesy of Kyson Dana and Boosted.