Creating a soft good to carry a hard good is no small task – especially when that hard good weighs 16 pounds, is by definition long, and covered in what is essentially sandpaper on one side. These obstacles, along with it being my first mass-produced soft good, made this project a bit daunting, but very exciting. The team at Boosted pretty much gave me free rein on the backpack, and I'm stoked about how it turned out.
"BOOSTING"
Riding a Boosted Board is about exploring, so our backpack is built for whatever adventures you can throw at it. Crafted from hard-wearing materials presented in a refined silhouette, it's a clean aesthetic that fits into any situation. With expandable, fold-top construction, the bag adapts to your every need –whether that's to work, class, or a grocery run.
CARRY SYSTEM
The backpack's core function is, of course, to carry the Boosted Board. The board isn't very fun to carry around in your hands when at the store, at a concert, on the train, etc., so having a place to carry it comfortably really extends the board's use. It took several rounds of research, ideation, and prototyping to find a solution that would hold the Board in place firmly without being overly cumbersome to engage.
Since the board is quite large and a bit top-heavy, holding it tight against the user's body in a well-balanced position is crucial for comfort. To achieve this balance, we created a three-part system that constrains the board in all axes. First, a fold-down flap helps hold the tail of the board and protects the user from the deck's griptape. Second, a contoured panel and crossbar hugs the board firmly in place. Third, a strap system similar to the stabilizer straps on hiking backpacks lifts under the battery and pulls the top of the board towards the head. Together this creates a locked-in connection between the board and bag, which makes it as comfortable as possible.
BAG DESIGN
The bag itself was a blast to work on. The general vision was to create something simple enough that it could blend in to any environment – from board meeting to "board" meeting. I gathered a lot of inspiration from both high-fashion bags and hard-core bike messenger bags. I would say our bag represents a good mashup of those two worlds. Technical details like waterproof YKK zips, waterproof fabric, exposed webbing construction, and magnetic fasteners juxtapose a refined rucksack silhouette and asymmetric details. Its primary visual complication – the large fold-over top flap – keeps the bag inherently water resistant and allows expansion from 25 to 30 liters. The large zippered opening at the top allows extra-long items to stick out of the top when needed. The padded laptop and interior pockets are also held tight against the user's back for optimal weight distribution.
RIDER-SPECIFIC DETAILS
Besides board carrying, we included several features tailored specifically to our users. A magnetic outer pocket allows riders to tuck away their remote with one hand while still wearing the bag. An internal holster keeps the charger in place for filling up on the go. The roll-top magnetic clasps even double as fasteners for your helmet. And the basics – a padded and zippered laptop sleeve, tablet sleeve, document storage, and two padded and lined accessory pockets for organization.
While working closely with our overseas vendor, we beat many sample bags to death. Our test plan was, honestly, a bit barbaric. It consisted of things like filling bags with an 80 lb. sack of concrete and shaking it like crazy in all orientations. Or hanging bags from each strap for a few days at a time. Or my favorite, stuffing it full of paper then showering with it to test waterproofing. These tests informed our material choices, construction methods, and where to place extra reinforcements.
DESIGN FOR MANUFACTURING
Working with our manufacturing partner early on in the process made transitioning to scale much smoother. We were able to make several trips to visit them for each design phase, creating a tighter loop between iterations. Honestly it was pretty surreal seeing a bag I designed produced in such large numbers. It gets me thinking a lot about sustainability and use of resources. That's why I find it so important to design things to last – at least that way churn and waste is minimized.
LAUNCHING
Our marketing team organized and launched a great campaign around the backpack, showcasing its key features. I was able to be present for much of the filming and photography, and it was eye-opening to observe it all coming together. It sure takes an army.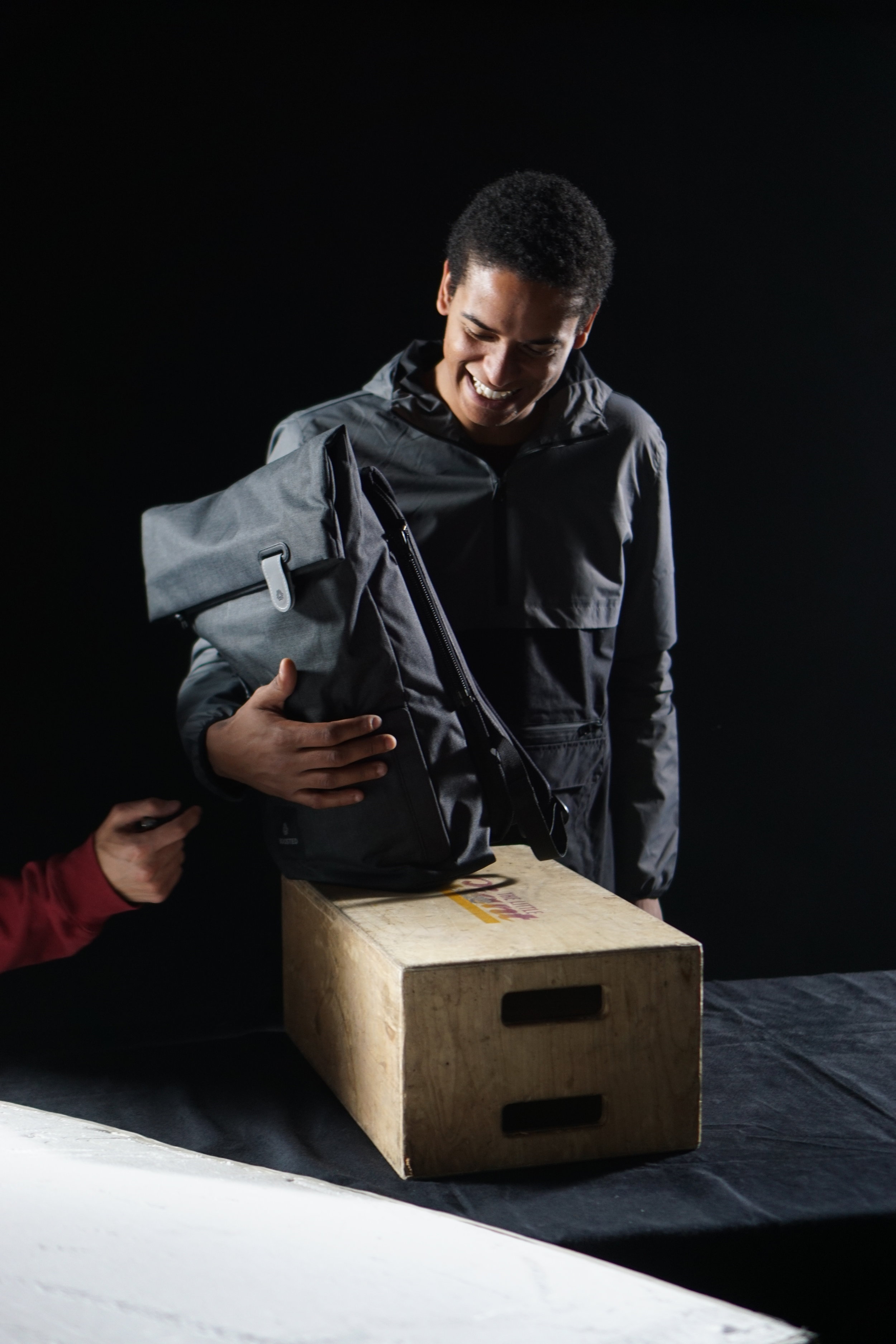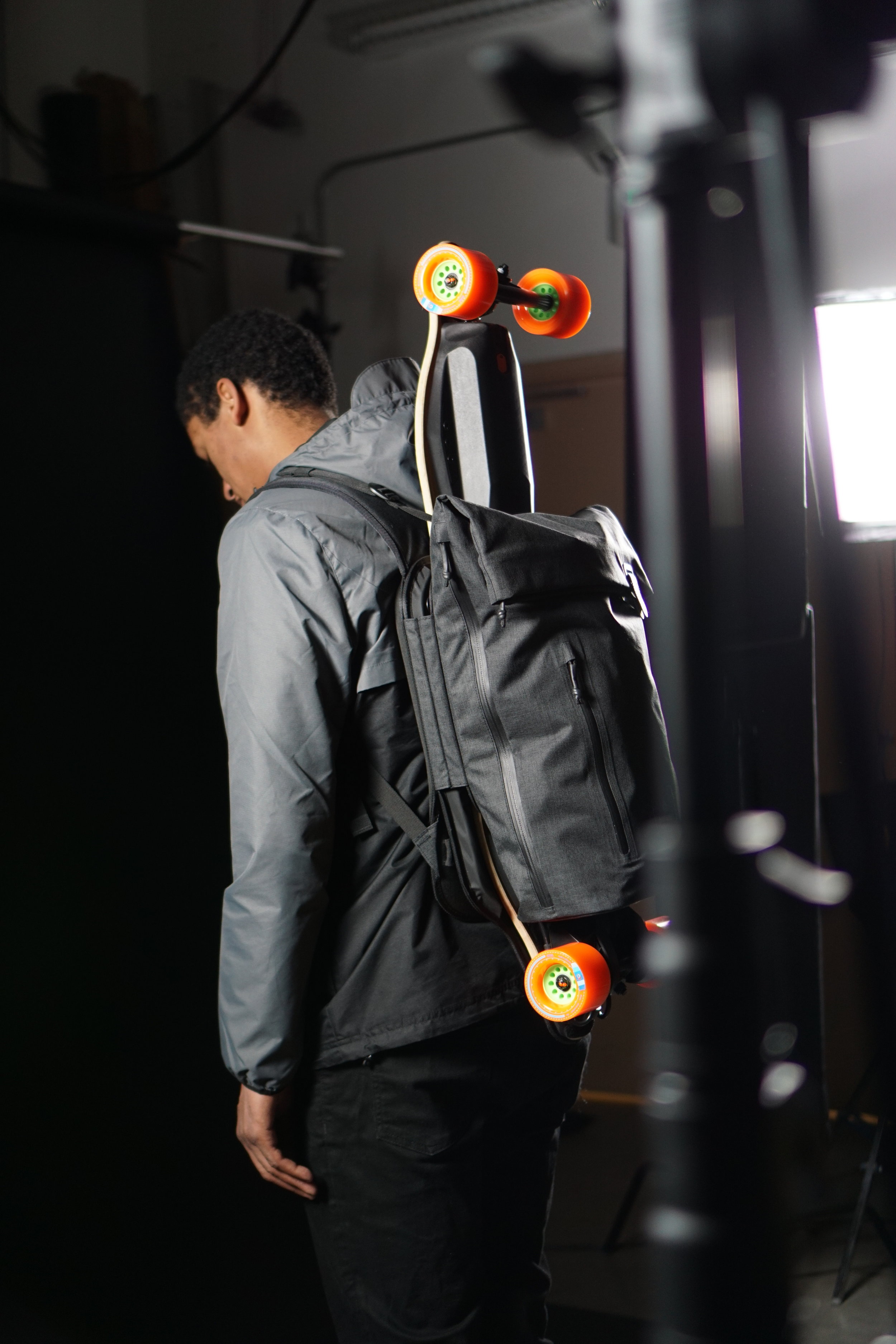 Awarded Silver by the Industrial Designers Society of America 2018.